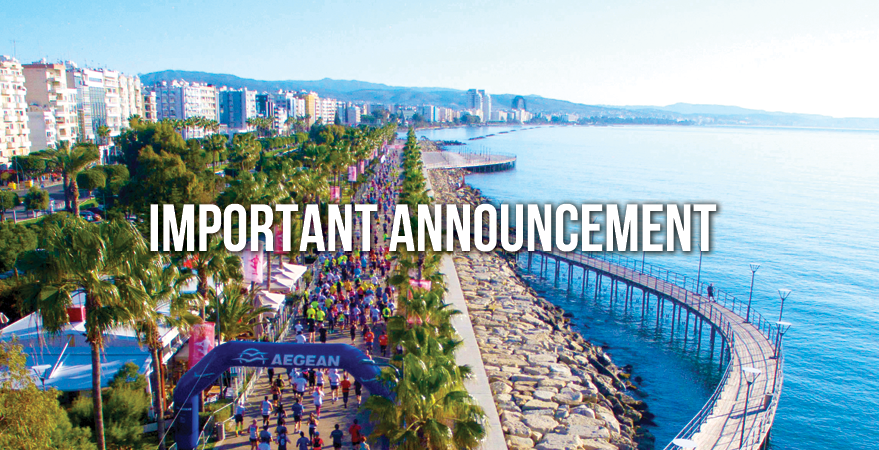 Dear runners,
Greetings from Limassol, Cyprus.
Through weeks of hard work and in collaboration with the Ministry of Health, the Limassol Municipality and all the bodies implicated in the organisation of the OPAP Limassol Marathon, we have tried to design a functional operation plan for the safe operation of our event in November 2020. Unfortunately, we were unable to find the solutions needed to accommodate a proper number of runners in a way that was deemed safe and efficient under the prism of the COVID-19 pandemic.
Furthermore, even if we were able to design such a plan, that would be subject to the epidemiological status of Cyprus. Therefore, the operation of the event would have been greatly uncertain.
Based on the above, we made the decision to merge the November 2020 and March 2021 events into one single event on the 27th and 28th of November 2021.
As stated in early March, when we had to postpone the event ten days before its operation, our prime concern is and always will be the health and safety of our runners, volunteers, supporters and staff. Therefore, the decision of moving the events in November 2021 is the most responsible and safe approach towards our community and runners.
As a reaction to the transfer of the events in November 2021 and to the shocking effects that the pandemic has on our running community, we would like to turn November 2020 into a showcase of charitable action through running. In the next days we will announce our plans for the OPAP Limassol Marathon virtual event, with a core purpose to support major charitable causes in Cyprus but also around the world.
We would like to reach out to our runners and say that we know of the hours of hard training put in to prepare for the event. We understand and share your disappointment and frustration. We would also like to reach out and express our sympathies to the thousands of people working in the event organising industry and whose jobs have been affected by this unprecedented crisis.
We would like to thank the Ministry of Health for working with us on examining all possible scenarios of organising the event safely.
All further announcements and clarifications will be posted in our website and social media. All registered runners will be contacted directly via email.
See you at the start line in November 2021!